The 2017 NSCFP Annual Meeting will be held in conjunction with the 2017 Family Medicine Conference on Friday, 20 October, 2017 | 12:55 – 1:20 PM
All NSCFP members are welcome to attend the Annual Meeting portion of the event.
If you do not plan to attend the CPD sessions, no prior registration is required. If you would like to attend the NSCFP Family Medicine Conference please click here to register.
We will be voting on our NSCFP Bylaw revisions. NSCFP members can click here to review the proposed changes.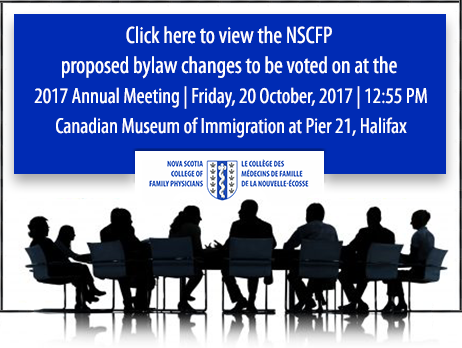 If you would like to vote by proxy, download the proxy form here and submit it by 30 September, 2017 to [email protected].
---
2016 Nova Scotia College of Family Physicians Annual General Meeting
Friday, 14 October, 2015 from 12:40 PM to 1:10 PM
Kenneth C. Rowe Hall
Canadian Museum of Immigration at Pier 21
1055 Marginal Rd., Halifax